This is probably the quilt I have made that I am most proud of, and I am thrilled to enter it in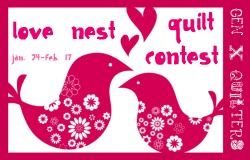 And I AM part of Gen X, by the way... in case you didn't know!
anyway, back to the quilt. Here's 10 things I LOVE about it!
1. I love that I made myself be meticulous. Despite my hatred of seam ripping,
I actually ripped a bunch of seams out
to make these blocks perfect.
3. I love the very loud large scale backing.
3. Even more, I love the piano key border on the top of the back that peeks out when you fold the top of the quilt over.
4. I love the polka dot binding.
5. I love that I quilted it myself on my Bernina 830 Record. It's an oversized queen. I wanted the quilting to be perfect and so I
actually did practice quilt blocks
and
I agonized over thread color
6. I love that I dared to accessorize! I made this pillow, and
it was part of a challenge
. I love it! I kind of wish the whole quilt was done this way....
7. I love the giant block P pillow. I've started into piecing letters. My last name starts with a "P"...
8. I love that in typical Wendy fashion, I didn't buy enough of any fabric and so I ran out of many of them and had to supplement. I figure I'll never learn to plan ahead. And did you know that a queen sized quilt takes a lot of fabric??!
9. I love the Michael Miller Word Search fabric. It's one of my absolute favorite fabrics and I wish I had a whole bolt of it. Alas....
10. I love that I spent 7 months on this quilt, off and on. And that I finally, finally finished it up!
Oh, and I'd like to tell you I also love that I found sheets at IKEA that match perfectly... but that would be 11 things, which would be excessive, I think......
Thanks for Stopping by The Wendy City.....